According to the "Innovative city report" presented by our friends from ThinkCo in Warsaw in January 2023, 58% of respondents believe that technology is making cities and buildings more sustainable, and 57% believe that it improves the quality of public services.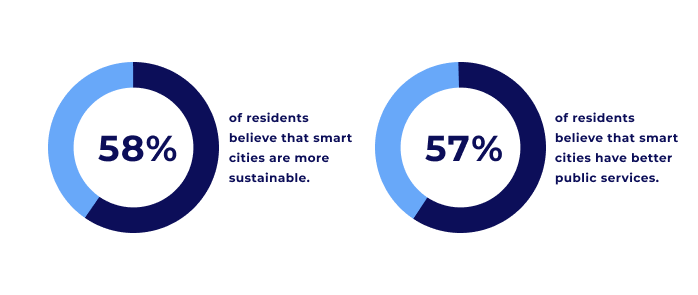 Answering what your city lacks, the most frequently chosen option (26,2%) is well-priced, good-quality apartments (purchase and rental). This is just another evidence that the whole market requires a deeper level of balance between price and assortment which we in MAXIFY explored in the last 5 years. The deeper we dive into the Polish real estate market the more clarity we have on how big its volatility is and how important it is to react fast to market changes. This is precisely where technologies should act as smart assistants and highly-qualified advisors.
The smart cities segment is a huge area of focus for real estate innovation. The global market for smart city solutions is valued at over USD 1.2 trillion. It is projected to grow by approximately 24.1% annually in the coming years, reaching over $7 trillion by the decade's end. Smart solutions are becoming increasingly important in addressing the various challenges faced by modern cities, from social inequalities and environmental threats to aging populations and spatial chaos.
One of the most significant growth areas in real estate innovation is the smart home market, which is projected to grow from over $91 billion in 2022 to $205 billion in 2026. Similarly, the value of the smart office market was estimated at USD 33.5 billion in 2020 and is expected to double by 2026.
The retail technology finance sector is also seeing a surge in investments, with global retail technology finance deals increasing more than 100% year-on-year to over $109 billion in 2021. Furthermore, the global market's revenues for smart logistics solutions were valued at USD 30.6 billion in 2022 and are expected to increase to USD 201 billion by the end of 2032.
Although Polish cities currently occupy decent places in the global rankings of smart cities. More and more centers, including small towns, are utilizing various solutions, particularly in the field of mobility, resource management, and digitization. However, the rapid development of technology also brings potential problems related to data turnover and privacy, dependence on technological partners, or a lack of digital skills among residents and officials.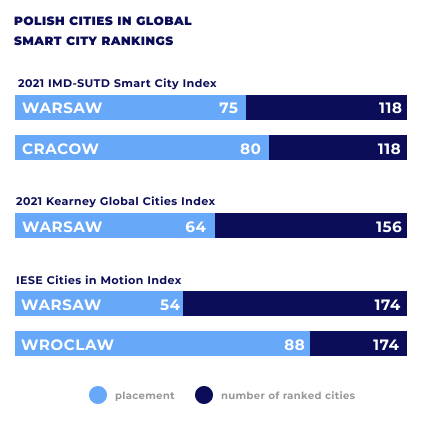 In keeping with ThinkCo and Otodom, respondents most often indicate that a modern city should be characterized by good quality and affordable housing, efficient public transport, and care for the environment. While innovative technologies are not considered standard home furnishings, every fourth person answered "I am not interested in such solutions" when asked about modern buildings and flats. The most frequently indicated benefits that could encourage investing in modern solutions at home include greater convenience of use, increased privacy, and long-term financial savings.
There is no doubt real estate innovations are transforming the industry, from smart homes and offices to smart cities and complex industrial solutions. While there are many challenges to overcome, innovations will continue to drive growth and shape the future of the real estate. We believe that innovative cities will continue to inspire and lead the way for others to follow.
We are committed to supporting these cities in their journey and contributing to their growth and development through our advanced technology solutions.
However, while the potential benefits of these innovations are vast, there are also challenges to consider, such as data privacy, dependence on technological partners, and a lack of digital skills among residents and officials.